Castles & Caves – SouthWest France
September 20 – 30, 2018  limited to 12 travelers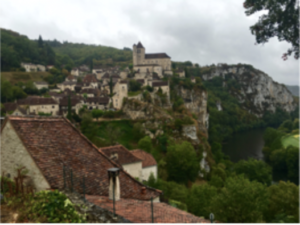 Visit a variety of pre-historic caves to behold magnificent paintings, etchings and relief sculptures created 19 to 28,000 years ago. Visit the museum of Lascaux lV, and the actual caves of Font-de-Gaume; Rouffignac Les Combrelles and Peche Merle. We explore castles including Beynac and Castlenaud, where English and French kings battled across the banks of the river. Tour begins in Bordeaux and the Museum of Aquitaine; in Les Eyzies we see the amazing National PreHistoric Museum of France. Albi is home to the Toulouse Lautrec Museum. It all comes together in medieval bastides – fortified "new towns" built by nobles. We stop in the Saturday Sarlat market for foi gras and apricots and prunes..
From Toulouse, we take a day tour to visit Carcassonne!
Ask for an itinerary – Drafts available upon request.
Tickets to the caves in demand – so please sign up as soon as possible.
Activity – moderate. Price $5450 double occupancy
– the 4th place ranking after Venice!
Learn why D0rgd0gne was named among the best places in Europe!