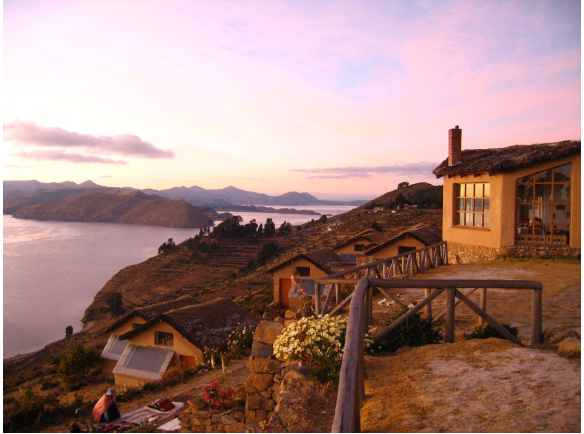 Announcing a new New View Tour! Below are some of the highlights! Full details of the itinerary are available upon request!
Fly to Lima, then on to Arequippa, the second largest city in Peru to explore classic colonial architecture in unique buildings built from sillar, a pearly volcanic rock that makes the city look white!. Visit  the remarkable Santa Catalina Monastery and the the Museo de Santuarios Andinos aka the Inca Mummy Museum. With 300 days of sunshine per year in the the desert, expect a beautiful climate at 7,000 feet. Then it is on by van on paved road to the Colca Canyon, twice the size of the Grand Canyon in Arizona. We stop in Aguadas Blancas Reserve to observe troops of vicuña; visit Coporaque the oldest colonial settlement in the valley and then on to Uyo Uyo, the Inca administrative center.  We find condors gliding on the thermals,
We take gentle hikes here in the Andes viewing geoglyphs and cliff side tombs and traditional villages. Our last days are in Bolivia as we cross the border to discover the Island of the Sun, then on to La Paz to end this leg of the tour in the capital city. We see the Gold Museum, the Killikilli viewpoint, the native market district and the affluent neighborhood of Calacoto. From here, choose to fly back to Peru to Cuzco to the citadel of Machu Picchu in the Sacred Valley. If time is of the essence, now is the time to fly back to Lima for connections home.
Pre-Arranged Lodging:
Casa Andina Private Collection – Arequipa
Colca Lodge
Hotel Jose Antonio overlooking Lake Titicaca in Puno
Hotel Rosario del Lago in Cocacabana
Ecolodge La Esrancia
Hotel Europa in La Paz
The tour moves right along staying only two nights at most hotels. Activity level is moderate: we will take walks in the Andes, be traveling at higher altitudes, and of course be able to rest up along the way in lovely hotels. Yoga class will be offered as the schedule permits.
Arequipa, to the Colca Canyon to Puno & Lake Titicaca with a view of La Paz, Bolivia.
Cost $ 2650
April 18 – 23, 2018
Add—on tour to Machu Picchu: Cost $ 1600
Detailed itinerary available upon request.
Group will be between 6 -8 passengers
Optional Add-on tour to Sacred Valley of Machu Picchu, Peru for 5 nights – $1700.