Arequipa, Colca Canyon, Lake Titicaca, La Paz, Bolivia
Arequipa – La Paz – 11 nights – April 7 – 17
Add-on a tour to Machu Picchu – 6 nights – April 18 – 23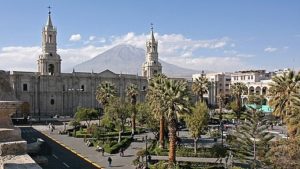 Fly to Lima to transfer for a short flight to Arequipa, a World Heritage site designed in 1540 by the Spanish. Explore the white city of silla volcanic stone located in the dry Atacama Desert with 300 days of sunshine a year. This is the second largest city in the country.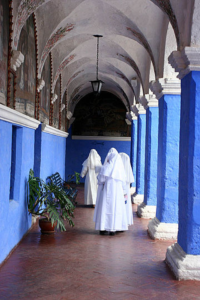 Explore the Basilica Cathedral; the Church of the Compania to see local interpretation of baroque architecture. Hotel: Casa Andina Private Collection.
Visit the Santa Catalina Monestary still in service and the Museo de Santuarios Andinos, aka the Inca Mummy Museum.  Drive up to the Colca Canyon by way of the Aquadas Blancas Reserve to find vicunas and samples of their woven wool. Visit Coporaque, the oldest colonial settlement in the valley, and Uyo Uyo, the last of an Inca administration center on a hill overlooking the colonial town.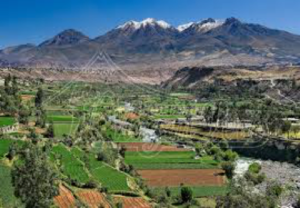 Cruz del Condor is a stop to find these enormous raptors in their favorite habitat: the high Andes! Hotel: Colca Lodge. Cross the peaks to the Cabanaconde, the settlement of pre-Columbian days at the end of the valley. Find an astonishing church and many traditional stone houses.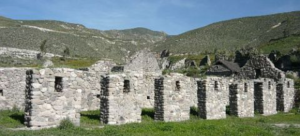 It is a day's drive over the spectacular pass to Puno for a night at Hotel José Antonio, overlooking Lake Titicaca. From here,  cross the Yunguyo border to Bolivia to Copacabana, the lake shore, the the Island of the Sun. Stay with special vista at Ecolodge La Estancia.
At the tip of the island, there is the much-abused archeological site called La Chincana; a reminder that this site figures in one of the primary origin myths of the emergence of the Inca dynasty. Come to understand this place; the village of Yumani,  and take boat launch on the lake to experience life on the Island of the Moon.
Next stop is the city of La Paz. Settle in the Hotel Europa, on a quite side street just off the Prado. From La Paz – return directly to the USA or….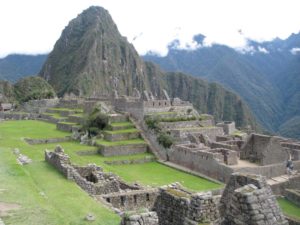 From La Paz – fly to Cuzco and tour to Machu Picchu. Journey through the Sacred Valley to Ollayantatambo and many significant Inca sites. Explore the heart of the former empire that expanded across 3,000 kilometers of the continent. Cuzco, a city shaped like a puma, represents the strength and organization of a sophisticated powerful past civilization. Hotel: El Albergue garden suites in Ollantaytambo; Hotel El MaPi for one night and Casa Andina Private Collection in Cusco for two nights
Fly Cuzco to Lima to return to the USA.
A detailed itinerary is available upon request.
Land Cost:
April 7 – 18: $2650
April 18 – 23: $1600
$4,250 Total per person double occupancy
Add $1550 single supplement – full tour
Travel Insurance not included, but strongly recommended
To Sign On for the Tour
fill out Reservation Form
Send $500 by check or credit card (Add 5% bank charge) to:
New View Tours
P.O. Box 593 Stockbridge, MA 01262
Questions?
Ramelle Pulitzer
Ramelle@newviewtours.com  336-416-2390
OR:
Michael Pulitzer
mp@newviewtours.com   413-717-5459