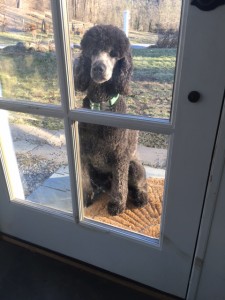 I moved a desk out of my studio this weekend. It's contents in full view were left in piles all over the place – begging to be put in order; old rolodex cards, art supplies, phone cords and batteries of all shapes and sizes, cd's, boxes of disparate stationary, etc, etc. One move had changed everything. the room was unusable chaos.
It took me a morning to sort the "stuff" into piles – old flyers, neat postcards, sales slips from Chile, Ecuador, Peru, maps of the equator, some old photos, brochures and art magazines…Some things rearranged nicely, others could move to another bureau; some I could put away right here; some were easy to throw away; and the rest went into another box –  find a box; find another box!!
By the time I looked up, my head was reeling from so many decisions; but my focus was quick to keep rearranging and resorting. En route to find a snack in the kitchen, I spied the half burned candles on the sideboard looking tired from the winter season. Chuck them out, clean them up, dust the shelves. Move in the daffodils, shuffle the pansy planters, sort sort sort. Wash the winter throw rug. Dust off the mud room boot rack. More and more. Oh no. There is the garage! Turn back. Turn back.
I looked up. A glance to the walls – aha! Move those old water color faded paintings. The heirlooms can rest a while in the quiet dark secluded cellar.  Let's find something new to put right there. It is supposed to be spring after all. Leave it blank. Very nice. Just look at the nails.
By afternoon the day had turned into one of review and revise; basically I had crafted a new view in my work space that filtered through the house. Not really a rearrange, but simply a reACT to the moving of the desk. That small difference caused one step to follow another onto the path of a better workspace, a new set of files, rediscovered opportunities right in my own dark drawers.
Yes, by coincidence or design, I am happy today because of  yesterday. First, I took action. Then I watched and moved about the room. Then I moved again through the house. Natalie Goldberg would call this getting through "monkey mind".  Tal Ben Shahir would suggest I was coping with and acting on rather than avoiding my purpose.  I guess he has had to clean out a desk or two.
Finding a New View in this case took one move of an old desk that became the impetus to transform the reality to a NEW place – where I have a NEW frame of mind.  It took energy, focus, and open time. It is called FLOW. It takes a sense of patience. It takes one's own art eye.
We all have one.  Do you dare make a move?
Happy Spring!
PS: I am not going into the garage any time soon.