High Sierra, the Intag Cloud Forest and Quito

Gardens & Trails:
a tour for travelers who prefer days full of activity,
nights in front of warm fires and
experienced English speaking guides, beautiful scenery
excellent accommodations, most meals included….
with Ramelle Pulitzer, tour director.
Add on tours to the Galapagos Islands, the Amazon Jungle, or Cuenca can be arranged.
---
Chile to Argentina Cross Continental Tour – 10 days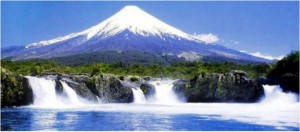 This trip starts with a tour to Valparaiso on the coast, then heads for the city of Santiago. We stop at two inland vineyards outside Santiago. Then it is a flight to the Puerto Montt region along the Pacific coast. We visit the unique island arriving at the southern access to Chiloe National Park. Next, cross the mountain lakes with a stop at Petrohue falls in Vicente Perez Rosales national park. Our travels take us by bus, catamaran, and ferry Argentina Crossover the Andes to the lake town of San Carlos de Barlioche where we stay 2 nights. It is a flight on to Buenos Aires for a taste of the city including a guided tour, of course a tango demonstration over a late night dinner and 2 – 3 days of exploration.
---
Textiles & Treasures – 10 days
After a day in Lima, we fly to Cuzco to explore Peruvian Inca ruins discovered by Hiram Bingham in the early 1900's. Many sites around the Inca capital city. Cuzco and along the spectacular Sacred Valley carved by the rushing Urubamba River. Discover for yourself the complex story of Machu Piccu. Knowledgeable guides take us to the weaving collective, the monumental Inca rock buildings and tour with us through Cuzco. The enormous central plaza features colonial churches build on stones set by Incas.