Dates: contact New View Tours for schedule.
Write, Sketch, Paint, Photograph, Yoga. From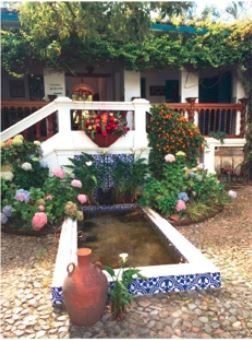 Quito, Ecuador, the adventure begins. Stay in comfort at the most beautifully restored 1602 Hacienda Cusin in San Pablo de Lago, near Otavalo, home of largest market in SA. Private tour of the hacienda gardens, Visit local craftsmen in their homes, learn about earlier explorers such as Frederic Church and Alexander von Humboldt who enjoyed these mountain views centuries ago. Another stop will be in to the luscious Intag Cloud forest to stay at a retreat. Choose to birdwatch, hike, and explore with naturalist English speaking local guides. Next visit the World Heritage capital city of Quito for two days of museums and walking tours. All activity levels welcome – Add On stays can be arranged: Galapagos Islands, Cuenca (southern Ecuador).
8 nights – Land $2400 per person single;$1990 shared occupancy.
For more information contact: Ramelle Pulitzer: ramelle@newviewtours.com
Itinerary
Day One – Friday
Fly to Quito
private transfer to 1602 restored Hacienda Cusin (1/4)
Day Two – Saturday
Visit the Otavalo Market place – largest in South America
Afternoon activities at the hacienda arranged to your interest
Evening at Cusin (2/4)
Rose plantation tour – next door
Day Three – Sunday
Hacienda Cusin 3/4
Morning property tour with Sr. Nik, owner and guiding light for all that is here.
Tour local communities of San Pablo and Agato – weavers, music makers, Peguche waterfalls
Lunch at Sachaji retreat – a contemporary green hotel up the valley from Cusin
Afternoon flight demonstration at the condor park
Day Four – Monday
Hacienda Cusin 4/4
Mojanda lakes are stunning – walks are flat or steep.
Lunch at Hacienda Pinsaqui – included.
Day Five – Tuesday
Transfer to Intag Cloud Forest
en route stop at Cotacachi, Cuicocha lake and rim of the volcano
Lunch at family run  El Mirador featuring delicious trout overlooking the crater lake.
Upon arrival, walk the grounds, identify tanagers, euphoria and other birds.
Home cooked Ecuadorean dinner with produce from the garden.
El Refugio de Intag 1/2
Day Six – Wednesday
El Refugio activities: Walk Intag cloud forest paths while bird watching, orientation to flora and fauna here with host Peter Joost
Tour coffee plantation on the property. All meals included at El Refugio
El Refugio de Intag 2/2
Day Seven – Thursday
Drive to Quito today to include several stops diverse country including  a must-do Stop in the equatorial line – Quitsato; a walk along the 7th century grass cover pyramids of Cochasqui,
Option: tourist attraction – Mitad del Mundo the equator.
Night in Quito. Walk through La Ronda, a section of bars and shops alive with music every night.
Quito 1/3
Day Eight – Friday
Morning or full day tour of colonial city
Include museums, stunning churches and Presidential Palace: Guayasamin Museum and Home, Quito City Museum, Casa de Cultura (under remodel)
Dinner at the elegant
Hotel Hacienda Patio Andaluz or equivalent  1/2
Day Nine – Saturday
Full day Tour of the city, a world heritage site.
Hacienda Patio Andaluz (2/2)
Day  Ten – Sunday
Transfer to airport for Flights to USA
Enjoy Ecuador for Extra Days
Or add on a cruise to the Galapagos Islands