Hello Friends and Travelers,
Greetings! I write awaiting an enormous thunder storm moving very quickly up from the
mid Atlantic states to cool us off here in New England; right on schedule for a respite from
the long sun baked days of summer. This is the season for celebration in these low rolling
Berkshire hills where festivals of music, theatre, and dance rotate through; performances
changing weekly. We stay on our toes to catch what we can!
At the same time, Michael and I are planning and booking New View Tours Fall and Winter trips: listed here on the website.
Refresh, Explore, Restore!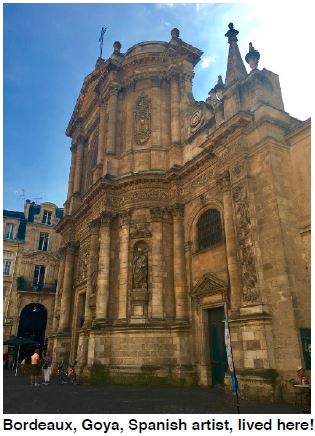 In September 2017, we go with a small group to the Dordogne Valley in Southwest France.
"Castles & Caves Tour" starts in Bordeaux exploring the restored World Heritage city between the ocean and two rivers, an historic, renowned trade center! The New View will be the Wine Museum housed in a contemporary glass walled building! We travel through the medieval city of St. Emillion to Les Eyzies and Beynac; admire early architecture of castles and churches in the midst wine vineyards dating from the 9th century. The tour features the cave painters, the artists of pre-history who drew and carved on walls of limestone deep underground. The New View will be the reproduction: Lascaux IV opened in late 2016. It is a digitized imaging of the original cave (that I saw when I was 11 years old). Then on to Toulouse and Albi and Carcasonne. We are grateful to Ophorus, our travel partners in the Perigord who are able to acquire the cherished tickets to enter these exceptional destinations. As the 2017 tour is full, and we have a good deal of interest, we
will offer Castles & Caves in September 2018.
Ready to Retreat & Relax?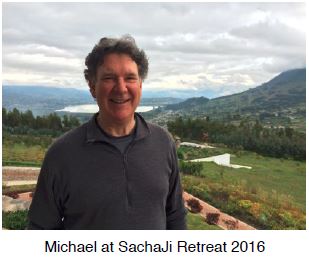 Try a tour to our favorite retreat, My Sachaji in the Imbabura Valley in the High Sierras of Ecuador in October 2017 with emphasis on peace and relaxation: gentle restorative yoga, time for personal reflection, and time for exploration of markets and villages; always at your own pace. Meaning "Beloved Mountain" this wellness sanctuary is surrounded by Mother Earth and the Andean Mountains in Ecuador. The journey promises to leave you feeling rejuvenated, revitalized and refreshed.The region is undergoing fascinating cultural transformation as contemporary conveniences mesh with traditional ways of indigenous peoples. Enjoy a balance of both from the spectacular newly constructed SachaJi Retreat Center under Imbabura Mountain, overlooking San Pablo Lake.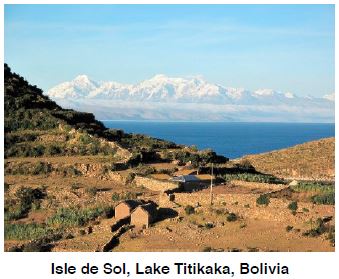 Ready to Explore?
Michael and I are going to travel to Bolivia in April 2018. Join us on a trip to this exceptionally beautiful land locked country, growing very fast, in the heart of the continent where two Andean ranges extend north/south with the distinctive altiplano between. Still under recognized as a travel destination, we plan to enjoy the South American country life style with stunning country side with haciendas and restored colonial buildings as our boutique hotels.
Details: We fly through Panama City to reach the international airport in the growing main city of Santa Cruz, about 7 hours from NYC. Stay overnight, take short blight to Sucre at mid-altitude, good for acclimation, the center of a rich weaving tradition, see ASUR museum as excellent introduction to the various regional sub-styles. Stay in pleasant boutique hotels. There is enough to do to spend three nights here including a city tour one day, then a nice hike in the countryside on the second day… It's a three hour drive up to Potosi where we plan for cold nights at 4,090 m. Main must-see attractions are the Royal Mint, and the stunning churches here. Going down a silver mine is an acquired taste, and carries some risk; we budget half a day for this optional activity. Considering the historical importance of the city, we spend two nights. Then it's on to Uyuni on a paved highway for three nights: we have a day out on the salt flats to visit Isla Pescado; a day in the northern end of the lake where there are some farming hamlets and the Thunupa Volcano, offering some tempting (optional) hiking. The last leg will be a blight up to La Paz for two nights, the highest capitol city in the Americas, and then 2 nights on Island of the Sun in Lake Titicaca to round out our two week adventure.
Dates: April 7 – 21, 2018 Cost: $3500 pp land.
International flights from NYC to Santa Cruz are $700 RT.
Add Ons: Are you The Intrepid Traveler? We can arrange it! Continue to Cuzco, Peru to explore the Sacred Valley and the Citadel.
Machu Picchu? Or another option is to visit the Colca Canyon in Peru and the arid white sands city of Arequipa en route to Lima for international flights home.
New Gift: I am delighted to share a truly delightful surprise from traveler, Carole Hyatt
who made this collage for us in appreciation for her trip to Hacienda Cusin and the Galapagos Islands last March, 2017.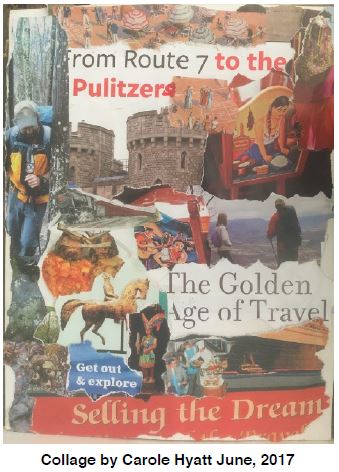 New View for You? Be sure to stay in touch if you would like to chat about travel, our
favorite destinations. We will be delighted to offer travel planning assistance to you and
yours. We can help book reservations, or do that all by yourself!
Reading List Update: We've added Death in Dordogne, "a cut above pulp biction" but great fun summer reading! Authors: Louis Sanders & Adrianna Hunter. It gets 3 stars on Amazon!
New View News:
We have a new ad, with many thanks to Amanda at StudioTwo: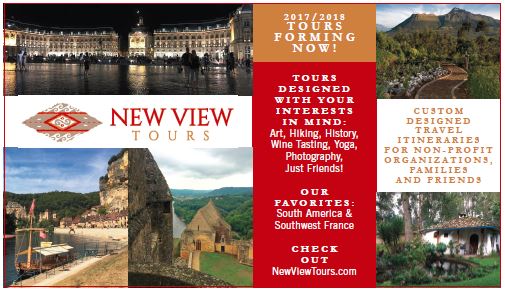 Best wishes,
Ramelle